Property Details
21498 NW Blackbottom Rd. Altha, FL 32421
Offered at $239,900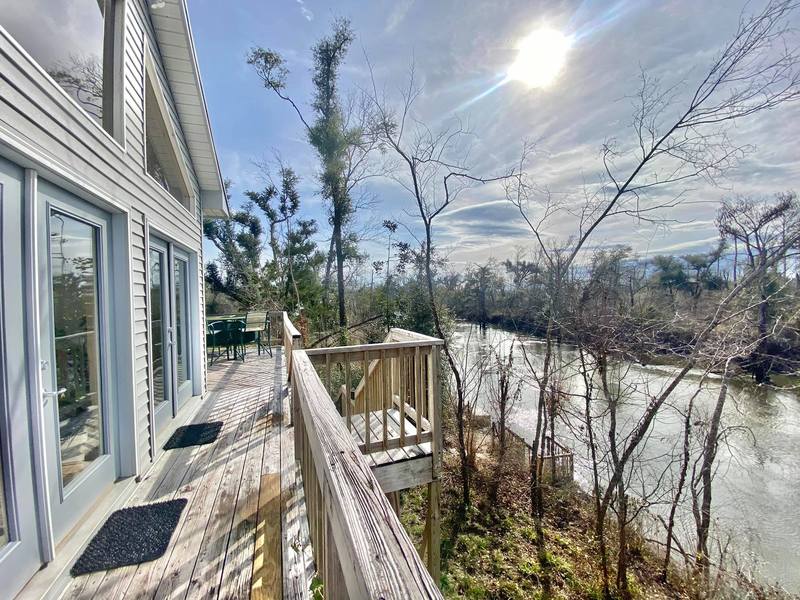 Phone: 8506745478
Status: Sold
Type: Single Family Homes

Year Built: 2000

Bedrooms: 3

Bathrooms: 3

Sq. Ft: 1475

Lot Size: 1 Acre

SOLD!!! BEAUTIFUL AND QUIET 3BR/3BA CHIPOLA RIVER WATERFRONT!
SOLD!!! Beautiful and quiet waterfront setting on the Chipola River! This is a perfect getaway or permanent home, like it has been for the sellers since they had the home built in 2000.
This very well built 3BR/3BA home has 1475sf heated and has approximately 221' of waterfront and 1 acre. The concrete piers supporting the home are 16"x16" and poured solid with rebar in the blocks. The home is approximately 6' above the base flood elevation and there is a bathroom with shower and plenty of room for parking, storage and entertaining under the home.
The interior of the home has tile in the kitchen and bathrooms and hardwood floors throughout the remainder of the home. French doors open from the master bedroom, living room and another bedroom onto the big deck which has a great view up and down the river. The other bedroom has a great view of the woods in front of the home. A hot tub is on the deck just outside the master bedroom and will remain with the home. A set of steps leads down from the deck to the dock on the river and the big yard. The front entrance opens into a small screened porch and then into the kitchen. The vaulted living room and lots of glass over the french doors on the river side give you a beautiful view of nothing but the river and the woods across the river!
A nice little fenced garden and flower area is near the road and can produce your favorite food and blooms! Of course there is a chicken house for fresh yard eggs!
Home has a new metal roof and is pretty much ready for a new owner to move in. $239,900.
For any questions about this home or for an appointment to view the home please call or text the listing broker, Danny Ryals at 850-899-6472.
Screened porch- 14'5"x7'8"
Utility closet- 5'7"x2'9"
Dining/Living room- 34'1"x14'10"
Bedroom 1 closet-3'11"x2'4"
Bedroom 2 closet- 3'11"x2'5
Master bedroom- 15'3"x13'7"
Master bathroom- 8'11"x5'0"
Deck (master bedroom)- 15'3"x9'9"
Deck (living room)- 16'2"x3'9"
Deck (bedroom 1)- 15'3"x9'11"
Bathroom 3 (ground level)- 8'2"x8'10"