Property Details
10850 SW CR 275 Blountstown, Florida 32424
Offered at $525,000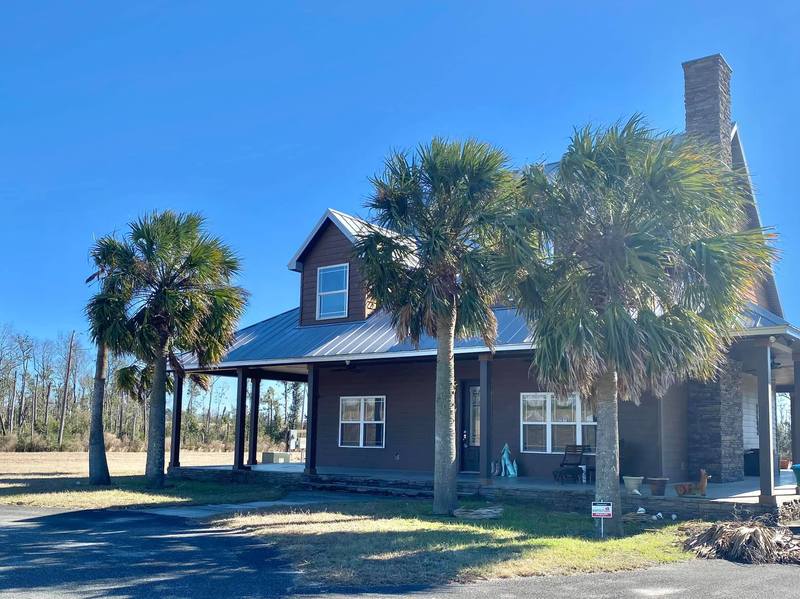 Listing Agent: Danny Ryals
Phone: 850-674-5478
Status: Sold
Type: Single Family Homes

Year Built: 2010

Bedrooms: 5

Bathrooms: 3.5

Sq. Ft: 2784

Lot Size: 50.5 acres

SOLD!!! Beautiful custom 5BR/3.5BA home on 50.5 acres!
Have you given thought lately to living somewhere else? Maybe wishing you could grow a big garden, raise a cow or two, have some chickens and a couple of springs for drinking water? What about having all that on 50 private acres with a beautiful 5 bedroom, 3.5 bathroom home? This property is your dream home!! A 1000' paved drive leads to this 2700sf heated and cooled home with a total of 4600sf under roof. The wrap around porch is 10' wide and has several ceiling fans. Roof is a standing seam metal with foam insulation in the attic and the exterior walls are insulated vinyl siding.
The master bedroom suite is downstairs and has his and hers closets, 2 vanities, a large tub and a tiled step-in shower. The eat in kitchen and living room are open with a half bath on the side. There is a gas hookup on the back porch with a door opening into the kitchen. Perfect for grilling and cooking inside at the same time! The floors downstairs are hardwood and tile.
Approximately 10 acres is cleared and planted in grass between the home and the road. There are a few additional acres that are cleared behind the house and more land could be cleared. There are several small springs on this property that flow year round and there is abundant wildlife.
Upstairs are 4 bedrooms, 2 full bathrooms and an office. Lots of storage and good sized bedrooms. One bedroom has a bath in the room. Carpet and tile floors. Office has lots of cabinets and storage.
All of the bedrooms have great views of the surrounding land. You won't need a tree stand for the back yard! You already have 2 climate controlled places to watch from the bedrooms!
This home and land have many extra features which make it a wonderful homesite. Blountstown is about 15 minutes away and Port St. Joe and Mexico Beach are about a 40 minute drive. Panama City is about 40-45 minutes away and Tallahassee about 1 hour. The Chipola River and the Apalachicola River both pass through Calhoun County on the way to the Gulf of Mexico. $525,000.00
For more details call or text Danny Ryals 850-899-6472. I was born and raised in Calhoun County and I am very familiar with this home and property. Our family run real estate office has been in operation over 20 years. Let us help you find your sweet spot!
Eat-In Kitchen-17'0"x16'7"
Living Room-19'4"x18'7"
Utility-10'6"x5'2"
Hall Closet-4'5"x3'4"
½ Bath-5'3"x5'1"
Master Bedroom-18'9"x12'0"
Master Closets-6'8"x6'3" and 6'0"x4'0"
Master Bathroom-12'4"x9'10"
Upstairs
Bathroom-10'8"x5'2"
Bedroom 2-17'4"x11'6"
Bedroom 2 Alcove-7'3"x6'0"
Bedroom 2 Closet-4'2"x2'4"
Office-13'6"x9'0"
Bedroom 3-14'1"x13'11"
Bedroom 3 Alcove-7'3"x6'0"
Bedroom 3 Closet-4'0"x2'0"
Bathroom-8'3"x5'0"
Linen Closet-2'0"x2'0"
Hall Closet-4'4"x1'10"
Bedroom 4-15'3"x12'0"
Bedroom 4 Alcove-7'4"x6'0"
Bedroom 4 Closet-6'1"x2'0"
Bedroom 5-15'0"x11'11"
Bedroom 5 Alcove-7'3"x6'0"
Bedroom 5 Closet-6'0"x2'0"
RV/Pole Barn-48'x28'
Property shown by appointment only to prequalified buyers. Call Danny Ryals at 850-899-6472 for more information.